More than just an event band, this group of skilled musicians - specializing in all genres, from classic jazz to modern pop - is all you'll need to make your event the most memorable one of the year.
When you host an event - whether it's a corporate party, a wedding, or an arena full of teenagers that need to be pumped up - you want that event to succeed. You know you want your event to be more than just a gathering of people. You want it to be an experience. The music that drives your event will be the difference between your guests sitting in the corner, glancing at the clock and mindlessly stirring their drinks, or dancing the night away, singing at the top of their lungs to all their favorite songs.
When you host an event, you need a band with a love of old classics, and a passion for modern hits. You need a band who knows how to play off the crowd, delighting everyone from the 5-year-old with boundless energy to the 85-year-old who still has dancing feet. You need a band of old souls and young hearts.

That's where we come in.

Young Hearts features members who have appeared on many stages, including NBC's "The Voice" to the 2013 Presidential Inauguration. In addition, our members have individually performed for "America's Got Talent", The American Heart Association, Dave Ramsey conferences, cruises, music festivals, weddings, corporate events and parties of all kinds. Young Hearts is one of the youngest bands you can hire with this level of experience and talent - and we promote all your favorites, from Frank Sinatra and Ella Fitzgerald to Justin Timberlake and Bruno Mars. With the creative collaboration of young, talented, and passionate musicians who have traveled the world, you are assured an amazing and lasting experience. The Young Hearts Experience is fueled by energy and audience involvement that is guaranteed to keep your guests moving - and buzzing about it for months to come.

Contact us today. Let's make some memories.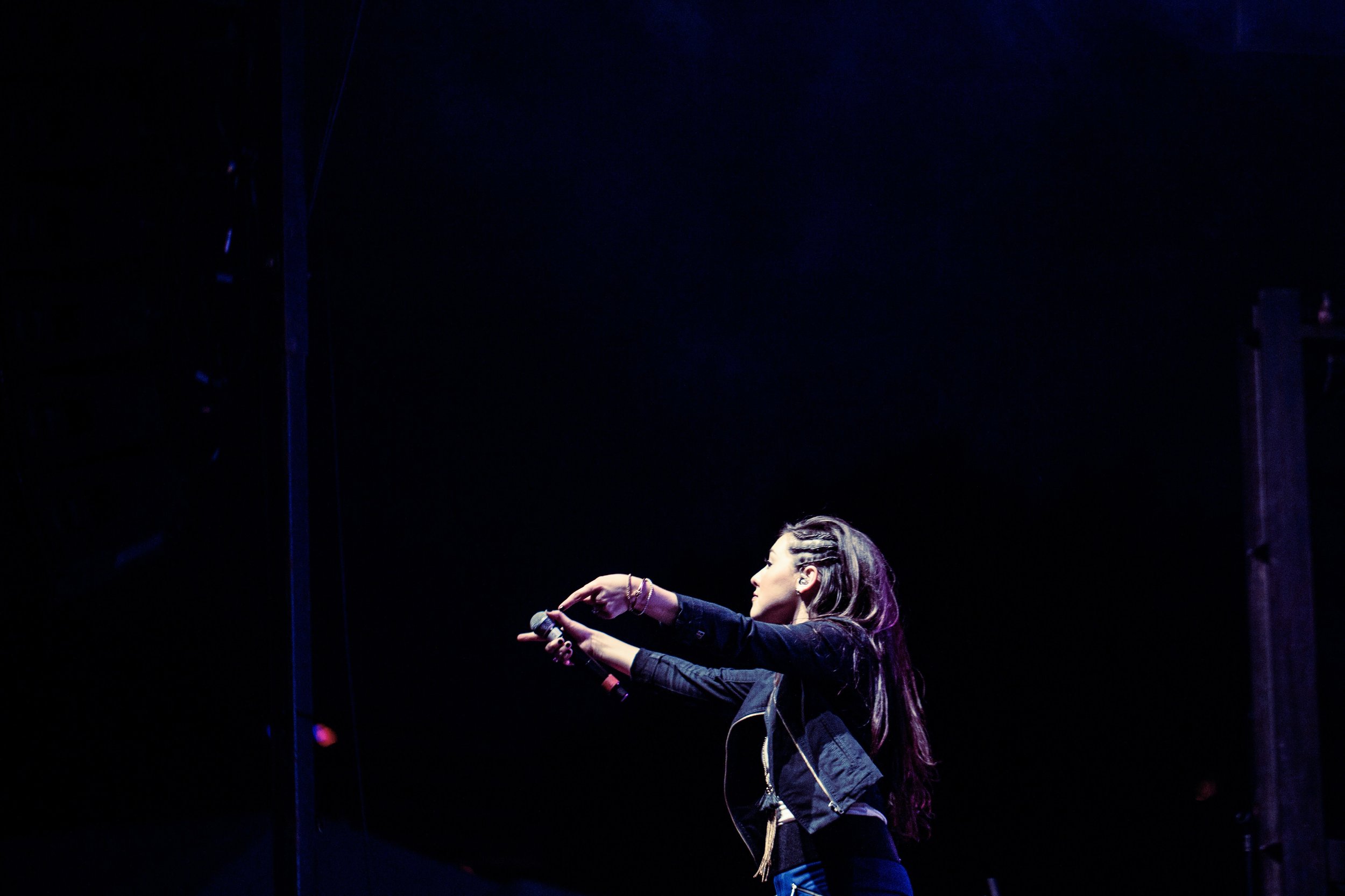 "BEST DECISION OF THE ENTIRE WEDDING! Our wedding was a month ago and we still have guests talking about HOW AWESOME the band was!! Not only is YOUNG HEARTS extremely talented, they were so much fun! The dance floor was literally packed the entire night, with everyone from my 5 year old cousin to my 83 year old grandmother dancing. We have had so many people ask for the name of our band for future parties/weddings- no doubt that we will be seeing them again! No matter what kind of crowd or event you're having, Young Hearts will definitely make it memorable and fun!"
Corrie | [ Bride, Chattanooga, TN ]
Thank you so much for a wonderful wedding reception this past weekend! Our guests have raved about your music and we are truly grateful for such an outstanding and enjoyable performance. I have never seen you perform, but I was quickly awed by your talents! But, I am also truly grateful for your kindness to my little granddaughter, Charlotte. The vocalists were not put off by her desire to be on stage with them and even danced with her for most of the night. This wasn't expected of you, but you were willing to indulge a three year old child, and that meant so much to all her family. You showed so much thoughtfulness and character, beyond what was expected of you. I am so thankful that we were able to secure your group for our event. You all made it so much fun and a night to remember. Thank you all so very much all you did to create a night of memories.
Carol | [ Mother of Bride, Gadsden, AL ]
"Young Hearts is the best band! I have booked many bands for various events, and Young Hearts have been, by far, the easiest to work with. Young Hearts are extremely professional. They really take the time to learn about the event and what your needs are. They play a variety of music, and are perfect for ANY event! This was not the first time we have hired them. We were so pleased from the first event, that we definitely wanted them to return! The other guests also enjoyed them so much that Young Hearts have been booked for their events as well. From weddings to country club socials. I have recommended them many times and will continue to!! Highly recommend!
Brittney | [ Gadsden, AL ]
BOOK NOW
Want to book us? Have a question? Want to just say hey? Fill out the form below - we'd love to hear from you.
WORK
W H O W E ' V E W O R K E D W I T H
U P C O M I N G E V E N T S - 2019
S A T M A Y 1 1 - S A V A N N A H , G A - P R I V A T E
S A T M A Y 1 8 - A L P H A R E T T A , G A - P R I V A T E
S A T M A Y 2 5 - L E W I S B U R G , T N - P R I V A T E
S U N M A Y 2 6 - C L O U D L A N D S T A T I O N , G A - P R I V A T E
S A T J U N E 0 1 - W H I T E S U L P H U R S P R I N G S , W V - P R I V A T E
T H U R S J U L Y 0 4 - T U C K A S E G E E , N C - P R I V A T E
S A T J U L Y 1 3 - L A G R A N G E . K Y - P R I V A T E
S U N J U L Y 1 4 - C H A T T A N O O G A , T N - P R I V A T E
S A T J U L Y 2 0 - D A L O N E G A , G A - P R I V A T E
S A T A U G U S T 2 4 - N A S H V I L L E , T N - P U B L I C
S A T S E P T E M B E R 0 7 - C H A T T A N O O G A , T N - P U B L I C
T H U R S S E P T E M B E R 1 9 - C H A T T A N O O G A , T N - P U B L I C
S A T S E P T E M B E R 2 1 - W E A V E R V I L L E , N C - P R I V A T E
S A T S E P T E M B E R 2 8 - C H A T T A N O O G A , T N - P R I V A T E
S A T O C T O B E R 0 5 - A T L A N T A , G A - P R I V A T E
S A T O C T O B E R 1 2 - M A R I E T T A , S C - P R I V A T E
F R I O C T O B E R 1 8 - N A S H V I L L E , T N - P R I V A T E
F R I O C T O B E R 2 5 - C H A T T A N O O G A , T N - P R I V A T E
S A T O C T O B E R 2 6 - M O B I L E , A L - P R I V A T E
S A T N O V E M B E R 0 2 - R I N G G O L D , G A - P R I V A T E
S A T N O V E M B E R 0 9 - C H I C K A M A U G A, G A - P R I V A T E
S A T N O V E M B E R 1 6 - C O L U M B U S, O H - P R I V A T E
S A T D E C E M B E R 0 7 - N E W O R L E A N S , L A - P R I V A T E
S A T D E C E M B E R 1 4 - A T L A N T A , G A - P R I V A T E
S A T D E C E M B E R 2 1 - R O M E , G A - P R I V A T E
T U E S D E C E M B E R 3 1 - C H A T T A N O O G A , T N - P R I V A T E
U P C O M I N G E V E N T S - 2020
F R I J A N U A R Y 3 1 - A T L A N T A , G A - P R I V A T E
S A T F E B R U A R Y 0 8 - C H A T T A N O O G A , T N - P R I V A T E
F R I F E B R U A R Y 1 4 - C H A T T A N O O G A , T N - P R I V A T E
S A T F E B R U A R Y 1 5 - C H A T T A N O O G A , T N - P R I V A T E
S A T M A R C H 1 4 - D A L T O N , G A - P R I V A T E
S A T M A R C H 2 8 - N E W O R L E A N S , L A - P R I V A T E
S A T A P R I L 0 4 - H I G H L A N D S , N C - P R I V A T E
S A T M A Y 0 2 - S A V A N N A H, G A - P R I V A T E
S A T M A Y 1 6 - S M Y R N A , T N - P R I V A T E
S A T M A Y 2 3 - C H A T T A N O O G A , T N - P R I V A T E
S A T M A Y 3 0 - H I L T O N H E A D I S L A N D , N C - P R I V A T E